Thank you to our Community Sponsors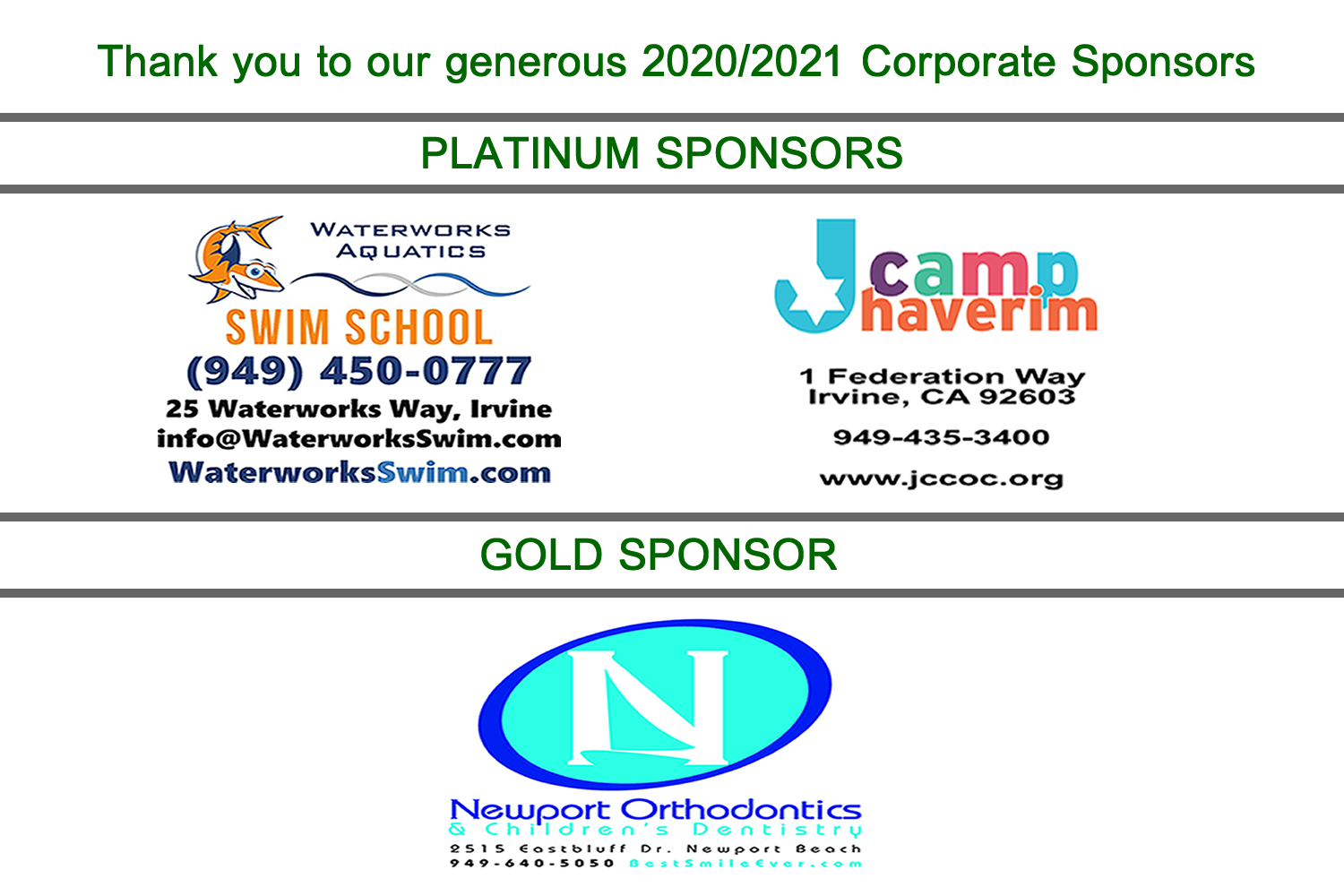 2021/2022 PTA Executive Board Slate
President – Heather Carter
Vice President – Tonya Bradford
Secretary – Mandi Farboudmanesh
Treasurer – Edgar Martinez
Financial Secretary – Steven Sager
Auditor – Fariba Eftekhar
Historian – Aubrey Sagalovich
VP Ways & Means – Leila Esfandiari
VP Programs – Astha Ghai
VP Communications – Renin Varnali
VP Membership – Tala Fazeli
VP Volunteers – Lilli LaBuen Gillen
Vista Verde PTA General Assembly Meeting
Tuesday, March 16th at 6:00PM
Join us for our next General Assembly meeting where the 2021-2022 PTA Executive Board will be elected.
All paid members as of February 15 are eligible to vote.
Registration is required. Please click here to register.
2021-2022 Vista Verde PTA Executive Board Slate:
President – Heather Carter
Vice President – Tonya Bradford
Secretary – Mandi Farboudmanesh
Treasurer – Edgar Martinez
Financial Secretary – Steven Sager
Auditor – Fariba Eftekhar
Historian – Aubrey Sagalovich
VP Ways & Means – Leila Esfandiari
VP Programs – Astha Ghai
VP Communications – Renin Varnali
VP Membership – Tala Fazeli
VP Volunteers – Lilli LaBuen Gillen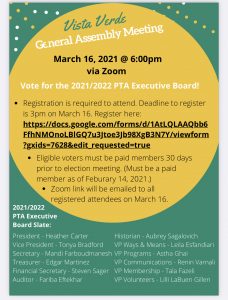 February Family Fun-draisers!
Join the Vista Verde PTA for our Family Fun-draising events! Give yourself a break from cooking and dine out on February 23 & February 25.
–       Chipotle (University Center) – Tuesday, February 23rd from 4:00pm – 8:00pm. Chipotle will donate 33% of all proceeds to Vista Verde.
–       Lemonade (Fashion Island) – Thursday, February 25th, from 11:00am – 7:00pm. Lemonade is giving back 30% of all proceeds to Vista Verde.
Promo code: GIVEBACK011
Last call for MathLeauge qualifiers: online tournaments Feb 20 (elementary) and Feb 28 (middle school). Qualifying students will be invited to participate in state level tournament.
VISTA VERDE REFLECTIONS ARTIST MOVES ON TO STATE LEVEL!
Congratulations to 7th Grader, Noah Lee! This year's Reflections theme was I MATTER BECAUSE and we offered multiple art categories including dance, film production, literature, music, photography, and visual arts, as well as a newer category: Special Artist.
Not only did Noah place first in the Literature category here at Vista Verde, and Irvine Unified Council PTA, but he just placed first at county level with The Fourth District PTA! NOAH LEE IS MOVING ON TO STATE! The Vista Verde community is extremely proud and grateful to Noah for sharing the importance of words and how it can inspire so many. The following is his artist statement, which is always submitted with entries:
"Literature is a way of communicating to people. In this poem, I used symbolism and metaphors to help the reader more visualize what I was trying to say, and to relate it to other things. The purpose of writing this poem was to communicate to others why they matter. When people are depressed or sad, they can see all the reasons why they matter in the world. Showing the reasons why me, one person in a multi-billion population, matters in the world."
You can read his winning entry, REASONS, here. Congratulations, Noah! We're rooting for you!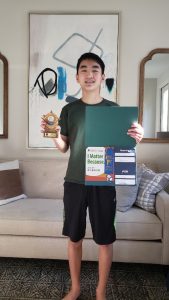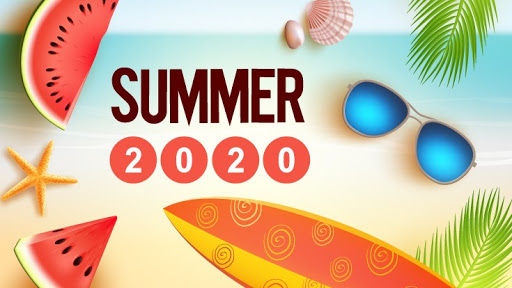 Blessings in a Backpack mobilizes communities, individuals, and resources to provide food on the weekends for elementary school children across America who might otherwise go hungry. At Blessings in a Backpack, we ensure that kids nationwide have full bellies over the weekend by sending them home on Fridays with backpacks full of satisfying and nutritional food.